G mouse UG-3300P GPS Receiver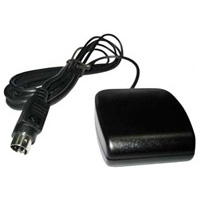 Features
16 channels to acquire and track satellites simultaneously
PS2 cable Built-in patch antenna, 6 pins wafer connector RS232/TTL output
Industry-leading TTFF speed
-140dBm acquisition sensitivity
-155dBm tracking sensitivity
Selectable User Profiles with ability to change and save configuration to Flash
SBAS (WAAS/EGNOS) capable
Power Consumption <45mA
Cold start < 60sec under open sky
Hot start < 5sec under open sky
UG-3300P (PS2 cable)
Ultra-high sensitivity 16 channels receiver
The UG-3300P is a compact all-in-one GPS receiver that continuously tracks all satellites in view and provides accurate satellite positioning data.
Incorporating the high GPS technology, UG-3300P with acquiring 16 channels ability improving cold-start fast positioning. It can track 16 channels down to 155 dBm and offers extremely accuracy even under attenuated situations such as high buildings in urban areas, dense foliage and even indoor. Satellite-based augmentation systems, such as WAAS and EGNOS, are supported to yield improved accuracy.
The Ug-3300P is optimized for applications requiring high performance and low cost; it is suitable for a wide range of handhelds, asset tracking, Notebook, PDA-centric personal navigation system, and vehicle navigation products.
Technical Specification
Receiver Type
16 parallel channels, C/A code(1.023 MHz chip rate)
Accuracy
Position 5m CEP
Velocity 0.1m/sec
Timing better than1 μs
Startup Time
< 5sec Hot Start
< 10sec Warm Start
< 60sec Cold Start
Signal Reacquisition
1s
Sensitivity
-140dBm acquisition
-155dBm tracking
Dynamics
5G
 Operational Limits
Altitude < 18,000m or
Velocity 500m/sec
(COCOM limit, either may be exceeded but not both)
Protocol
NMEA-0183, ver. 3.01
4800 baud, 8 N 1 (optional)
Datum
Default WGS-84
User definable
Serial Interface
LVTTL Level and RS-232 Level
RF Connector
N/A
Interface Connector
PS2
Power Supply
3.3V +/- 100mV or
3.8V ~ 8.0V (5V version)
Power Consumption
<45mA
Operating Temperature
-40oC ~ 85oC
Dimension
50mmLx41mmWx17mmH
Weight
20gmax