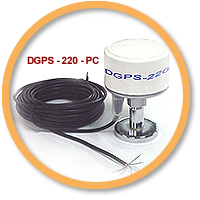 Cutting-edge GPS Device Integrated with GPS & Beacon Receiver
MODEL : DGPS-220-PC
It is the availability of host-based operation that makes DGPS-220-PC different from its predecessor DGPS-220, which features automatic search for beacon stations. In addition to the automatic mode, DGPS-220-PC now offers a manual mode, an extra feature that allows users themselves to set up in their computing devices the frequencies and baud rates for beacon stations. This feature is designed mainly to provide users with enhanced flexibility in positioning without scarifying accuracy.
As part of effort to free manual-operating users from the hassle of finding beacon stations available for their locations, DGPS-220-PC is shipped with a list of beacon stations located worldwide.
Essentially, DGPS-220-PC is an integrated GPS/Beacon receiver with built-in antennas, providing GPS differential corrections in NMEA-0183 format for navigation requiring high degree of accuracy.
DGPS-220-PC is a combined high performance GPS receiver and a differential beacon receiver in an extremely compact and fully waterproof enclosure providing 1~5 meter DGPS positioning accuracy by utilizing the broadcasted (283.5~325KHz) GPS differential corrections from the USCG, CCG, or IALA Beacons at no charge. Both GPS and Beacon receivers/antennas are built inside the enclosure, making DGPS-220-PC a single device featuring easy installation, maintenance and integrated services.
Features :
High positioning accuracy: 1~5m
User configurable output sentences
User programmable output time interval
User selectable datum (WGS-84 plus 170 user selectable datum)
Standard RTCM SC-104
Standard RS-232 & optional RS-422 signal levels
Wide operating voltage range 12~24V DC
Compact construction/fully weatherproof
Excellent noise immunity
Easy installation & operation
Application :
Marine, terrestrial, or aeronautical applications
Real time and post processing DGPS yield monitors
Soil sampling location
Crop and land mapping applications
Public Safety precise vehicle location
Construction
Transportation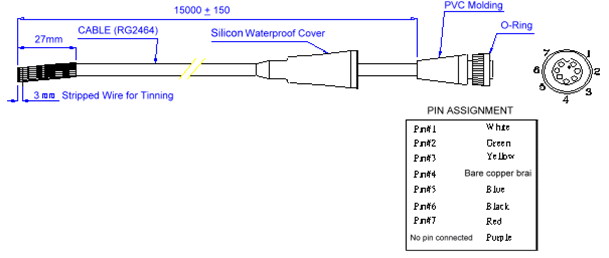 Specification
GPS RECEIVER GENERAL
SIGNAL PROCESSING
Antenna:
High-reliability ceramic patch
Antenna LNA gain:
26+/-2dBi, NF: 2.0dB max
Receiver Frequency:
1575.42MHz, C/A code, L1 band
Receiver Architecture:
12-channel ail-in-view algorithm tracks & uses up to 12 satellites
Update Rate:
1 second continuous
Dynamics:
Up to 49m/s.s (tracking sustained)
Datum:
WGS-84 plus 170 user selectable datum
ACCURACY
GPS Positioning Accuracy:
15m (2DRMS, L1, C/A code, HDOP<=4 without SA)
GPS Positioning Speed:
0.1 Kt RMS
DGPS Positioning Accuracy:
1~5m (2DRMS, L1, C/A code, HDOP<=4)
DGPS Positioning Speed:
0.1 Kt RMS
TIME TO FIRST FIX
Cold Start:
90 seconds
Warm Start:
20 seconds
Reacquisition:
2 seconds
BEACON RECEIVER GENERAL
SIGNAL PROCESSING
Frequency Range:
283.5~325.0 kHz
Channel Spacing:
500 Hz
Frequency Resolution:
0.01 Hz
Minimum Signal Strength:
< 5 uV/m @100bps
Dynamic Range:
> 90 dB
Adjacent Channel Rejection:
60 dB @1 kHz
Acquisition Time:
< 2 sec., manual command
 
< 2 sec., automatic warm start
 
< 1 min., automatic cold start
Selection of Station:
Automatic or manual
Signal Detection:
Direct digital synthesis (DDS)
DATA PROCESSING
Demodulation:
MSK (Minimum Shift Keying)
Error Detection:
Parity error check
MSK Bit Rates:
50, 100, 200 (automatic)
COMBINED RECEIVER GENERAL
DATA PORTS
Monitor/Control Port:
RS-232 at 4800 baud
Control Format:
NMEA-0183
Housing:
7 pin circular, hermetically sealed
Pins:
Gold plated for anti-corrosion
POWER REQUIREMENTS
Input Voltage:
12~24V DC with power-reverse protection
Power Consumption:
Less than 3W @12 V DC (max.)
ENVIRONMENTAL
Operating Temperature:
-30o to +75oC
Storage Temperature:
-40o to +85oC
Relative Humidity:
95% non-condensing
PHYSICAL
Dimension:
3.25 inches (height) x 4.4 inches (diameter)
Weight:
1.5 lbs
Enclosure:
High impact, corrosion-proof, PC (polycarbonate) resin
Construction:
Hermetically sealed, fully weatherproof
Mounting:
Pole mount to 1"-14 threaded pipe
OEM OPTIONS
Sentence Available:
GGA, GLL, GSA, GSV, VTG, RMC, ZDA
Output Interval:
0~60 sec. selectable
Operating Mode:
2D or 2D/3D automatic
Satellite Masks:
SNR, Elevation, PDOP
Type of Interface:
RS-232 (standard), RS-422 (optional)
Datum:
WGS-84 plus 170 user selectable datum
Extend Input Voltage:
Up to 60 VDC