UC-089 Cellular Phone Antenna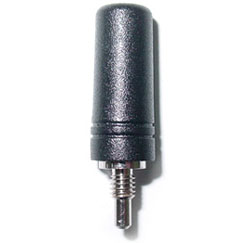 Electrical Specification
Frequency range : 880~960 & 1710~1880MHz
V.S.W.R : ≦ 2.0
Connector : Screw
Impedance : 50 Ω
Environmental & Mechanical Characters
Temperature : -20 ℃ to +80 ℃
Weight : 4.5 g
Dimensions : 8.5x30.0 mm
GENERAL DESCRIPION
Type No. : UC-89
Customer P/N :
DESCRIPTION & APPLICATION
This antenna assembly is designed for use in portable.
Communications equipment over a temperature range.
Of -20℃ to +85℃ in an indoor / outdoor environment.
ELECTRICAL CHARACTERISTICS
Frequency Range

Transmit Band (Tx): 880~915 Mhz . 1710~1785 Mhz
Receive Band (Rx): 935~960 Mhz . 1805~1880 Mhz

V.S.W.R

Tx: 2.0:1.0 or less
Rx: 2.0:1.0 or less

Impedance

3.3.1 Nominal Value : 50Ω
ENVIRONMENTAL CHARACTERISTICS
Operating temperature range -20℃ to +85℃
Humidity range : 10% RH to 80% RH
QUALIFICATION TESTING
5.1 Qualification testing, all product shall be able to withstand the following testing.
5.2 Physical dimensions identified within this specification.
5.3 Pull Test : Tube has the capability of load 6.0 kgf-cm in a vertical position within 30 seconds.
5.4 Torque Test : 6.0 kgf-cm no damage happened.
5.5 Side load Test : Antenna must with stand four 6.0 kgf-cm side loads applied at 90° After each load. Load to be applied at 6mm from tip of antenna, no part of the antenna may be damaged or pulled out of the assembly or from the housing.
Drop Test : Antenna 6 times up-side down form 150 cm height onto a concrete floor. Antenna shall be electrically and mechanically functional.
INSPECTION STANDARD
Dimension to use the special inspection level of S-4 , AQL 1.0 .
Appearance to use MIL-STD-105DII AQL1.0 .
Mechanical Capability : Per lot Sampling, n=5 , Ac 0 , Re 1 .
Environmental test : Per lot Sampling, n=3 , Ac 0, Re 1 .
PACKING STYLE
If customer has no specific request by the customer, all according to our standard Packing specification.
OTHERS
Any changes in this specification should be agreed by both parties.